44 Essential Auto Mechanic Tools and Equipment List 2023
There are four things required in fixing a car; knowledge, ability, tools, and equipment. Whether you're a DIY or professional gearhead, you need the right tools to fix a car.
However, identifying the right tool to use might be mind-boggling, especially if you're an entry-level mechanic. There are tools to handle basic auto repairs and intermediate tools, which allow you to work on more complex jobs.
There are also advanced tools and equipment found in standard garages, which certified mechanics use for specific and unique jobs. Using the right tool will make your work faster, and easier and prevent unnecessary injuries.
The difference between an entry-level mechanic and an advanced mechanic is having the right tools and knowing how and when to use them.
Must-Have Auto Mechanic Tools and Equipment List
Here's a list of auto mechanic tools and equipment in my garage that every auto mechanic and DIY enthusiast should have.
1. Screwdriver
This is a common tool that should be in every mechanic's toolbox. Screwdrivers are manufactured in different lengths and sizes, and they make work easier. Get stubbed screwdrivers that are great for working in awkward areas.
If you're shopping for a new garage, you should consider getting something advanced – think of electric-powered or rechargeable screwdrivers. These sets of screwdrivers are mainly used to rotate electric motors. 
2. Impact Wrench
An impact wrench is also known as an impact gun. It is used in losing and tightening wheel nuts and other heavy-duty processes in steering, suspension, and engine. There are two types of impact wrenches. when buying, consider the cordless type since they're more powerful than the air-powered ones.
3. Pliers
Every mechanic toolbox should contain some set of pliers. Pliers are necessary tools that mechanics require when repairing brakes, changing hoses, and even when dealing with other vehicle components.
They are also used in compressing and bending materials and holding hot components.
Pliers come in various forms, such as fencing pliers, diagonal pliers, lineman's pliers, bent nose pliers, straight nose pliers, and slip-joint pliers. It also comes in different lengths, shapes, and sizes.
In any case, ensure you have various types of pliers as they serve different purposes.
4. Vise-Grip
Vice-grips are commonly known as locking pliers. Vice-grips are handheld clamps that look like pliers.
It is a useful tool for losing hydraulic worn-out pipes, grabbing something without gripping teeth, or holding something in place for long. Vice grip comes in a set of 10, but you can buy only one if you can't afford the set at the moment.
5. Hammers
A mechanic's toolbox without a hammer is incomplete. Hammers play a significant role in an automobile garage. It helps in pulling out anything that is stuck and needs hitting.
You can use it to break free stuck ball joints, camber bushing, or any other stuck components.
There are many types of hammers in the market, and you should be careful when buying one. Types of hammers include; claw hammers, drawing hammers, sledgehammers, ball-pen hammers, club hammers, and dead blow hammers.
It is advisable to get a hammer with a rubber head. Get a pen ball hammer for your mechanic toolbox – it is common among mechanics.
However, if you're dealing with big industry vehicles, you should get a club hammer.
6. Socket Wrench
Socket wrenches are commonly known as ratchets. They are designed in such a way to allow a one-way turning. They serve several mechanical purposes and are mostly used in small spaces, awkward angels, and cramped areas.
They are used to tighten or loosen bolts faster. In any case, do not use them to slack a hard bolt or nut. Ratchets come in three different sizes; the small one (¼), the medium (3/8), and the large one (⅛). They make your work easier and faster.
7. Oil Filter Wrench
The oil change is one of the services That are carried out regularly. An oil filter wrench is an important tool used in removing oil filters.
Oil filters are exposed to earth, and thus, they accumulate grit and grimes, Which makes them hard to lose, and an oil filter wrench is a special tool that can break them free.
An oil filter wrench helps in removing any kind of oil filter. It grips the oil filter edges for easier removal. In any case, there are different types of oil filter wrench, and they are socket style wrench, strap-style wrench, universal oil filter wrench, and specialist wrench.
8. Wrench and Socket Sets
Wrenches come in different sizes and shapes. Those meant for maintenance and services ranged from 6mm to 36mm.
There are different manufacturers out there, so if quality means anything to you, consider chrome vanadium. Chrome vanadium is the best wrench socket set manufacturer in the market.
Wrenches come in different types: pipe or tube wrench, combination wrench, flex-head wrench, flare-nut wrench, open-end wrench, and adjustable wrenches.
Socket and wrenches provide a tight grip and help in losing and torquing bolts and nuts.
When buying wrenches, it is advisable to go for a metric wrench instead of a standard wrench. Some metric wrenches will contain both wrench and socket sets.
And when buying sockets, consider the ones in ranges of 6mm to 24mm or even up to 32mm.
9. Funnels
Funnels are a must-have tool in an auto repair shop. It is very useful when pouring oil or any fluid into your vehicle to avoid spillage. Of a truth, you can change your engine oil, trans oil, or any fluid without a funnel.
But when refilling engine oil without a funnel, there are high chances of pouring the oil on the engine, and the spilled oil will cause odors and accumulated greasy or dirt on the engine compartment.
It may even drip down to the exhaust manifolds resulting in oil burn and may end up affecting other components in the engine. Consider getting up to 3 funnels and using each one for different purposes.
For instance, do not use the same funnel for pouring engine oil and coolant. If you chose not to buy a set of funnels, ensure you buy 2 funnels at least.
10. Scissors
A nice pair of scissors is very important to a mechanic since they help during emergencies. Scissors are mostly used to cut wires, electric tape, zip files, etc.
Although scissors are not specifically mechanical tools, their versatility makes them a common tool in a  mechanic toolbox.
11. Electrical Tape
Electrical tapes are one of those little things auto electricians are seen with. Mechanics, however, do not value it until they need it. Electrical tapes play a significant role when dealing with wires, either lighting or car electronics like a car stereo or any other electronic components.
There are several types of tapes, and they include duct tape to hold things together, electrical tape for wires that pass current, and masking tapes mostly used by spray painters.
12. Hex Wrench
Automakers use Allen headed to tight components in an awkward place. In such cases, socket set and wrench Allen head socket won't access the bolt. Hex wrench will do a great job. The hex wrench is sold in sets, and they are affordable to both entry-level and advanced mechanics.
13. Torque Wrench
A torque wrench looks like a ratchet, but it's a different tool. A torque wrench allows mechanics to torque bolts at exact manufacturers' specs without over-tightening or breaking them.
This is one essential tool mostly used when losing bolts and nuts inside the transmission, or car engine.
It is also ideal for tightening spark plugs. When buying a torque wrench, consider buying one that reads in both ft. Nm. and Ib.
14. Feeler Gauge
A feeler gauge is a tool that has many tiny blades for measuring places where other measuring tools like measuring tape and calipers cannot fit.
15. Multimeter
A multimeter is a vital tool for electrical diagnosis and troubleshooting. It enables you to measure voltage, amperage, and resistance. Always go for a multimeter that can read amps for checking fuses and dead batteries. It also helps in checking hot wires.
16. Grinder
Though not often used by auto mechanics, a grinder is a useful tool, especially when doing construction or cutting work on exhaust pipes. When making a purchase, buy a 90-degree angle and straight grinder.
You can use it for different purposes, such as brake system maintenance and cutting or filling a brake disk.
You can also use it on forlve covers, wheel hubs, wheels, and rims. Grinders are multi-purpose tasks useful for cutting pavers, polishing, sharpening, pouting out stucco and tiles, sanding, and grinding metals.
17. Jumper Cables
This is one of the most common tools in both well-equipped and roadside garages. It is common and mostly used by both entry-level and advanced mechanics.
The singular function of a jumper cable is to supply electric current from a well-charged battery to a dead one in a car. Every mechanic should have a jumper cable in his toolbox.
18. Test Light
Test lights are crucial tools used when inspecting dead light bulbs, starter diagnosis, blown fuses, and electric & electronics issues. There are many types of lights on the store shelves.
I recommend buying dual polarity test light – it is the best test light for an entry-level mechanic due to its simplicity. It enables them to make correct diagnoses. This is a must-have tool for auto mechanics, especially for electricians.
19. Tire Pressure Gauge and Inflator
One of the common jobs that a mechanic does is tire jobs. Though, in some locations, there are people who are in charge of tire jobs. Tire pressure gauge and inflator is an essential tool for tire jobs.
A Tire pressure gauge is an air-compressed tool. You have to buy it along with a compressor.  This tool will enable you to keep your tire on the right gauge. Get the one with a gauge reading of at least 8 bars or 100PSI.
20. LED Flashlight or Underhood Work Light
When working under the hood, you may need light for a clear view of certain places. In any case, your vehicle might break down in the middle of the night. You'll need a flashlight to check the cause of the problem and possibly fix the fault. 
It enables you to easily find where the fault is from and fix it. In a situation like this, a LED flashlight will make a big difference.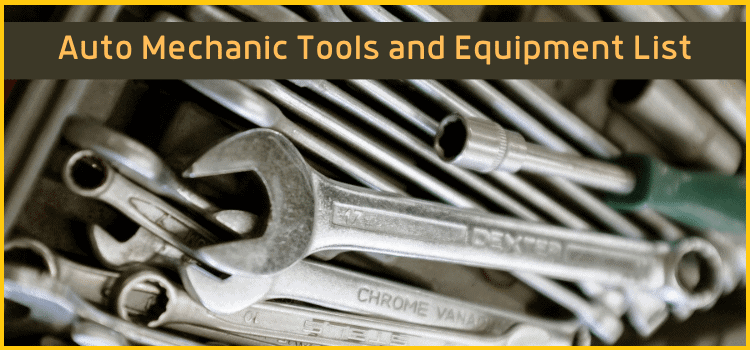 Auto Detailing Equipment List
Mechanic garages have to be equipped with both tools and equipment for efficient and effective work. We've outlined the necessary equipment every mechanic garage should have.
21. Engine Hoist / Engine Crane
An engine crane is equipment used in dropping car engines without applying much workforce. It is a piece of must-have equipment in any garage that works vehicle engines. When buying an engine crane, consider the one that can withstand the total weight of cars in your garage.
22. Battery Jumper and Cables
Most often, mechanics need to charge or replace dead batteries. You can successfully charge dead batteries only when you have a good battery charger and jumper. This equipment comes with an operational guide that you must comprehend before using it unless you are familiar with it.
23. Brake Cleaners
As the name suggests, brake cleaners are used for cleaning brake systems. It is mostly used in cleaning greasy or oily stains on the brake components. Aside from brake cleaning, they can also serve as antilock for super-hard joints. It also serves as starting aid for old engines.
24. Oil Draining Pan
An oil draining pan is a vital tool for any type of oil change such as gearbox oil, engine oil, transmission oil. To perform an oil change without messing up the garage, you need to catch the oil with a draining pan.
If you service your vehicle at recommended intervals, you'll be removing around 3 ½ to 4 quarts of used engine oil per every oil change. Ensure you dispose of it properly. It is dangerous to your pets.
25. Air Compressor
Air compressor system enables you to carry out heavy-duty jobs at ease. It enables some auto lifts and mechanics to run pneumatic tools.
Consider getting an air compressor that is easy to operate and doesn't occupy unnecessary space. Other factors to watch out for when purchasing an air compressor are PSI, cubic feet per minute, and required pistons.
26. Jack and Jack Stands
Over 50% of suspension work requires lifting and suspending vehicle wheels. Aside from suspension works, there is another car maintenance that requires lifting the vehicle.
Jacks are used in lifting vehicles, and jack stands are used in supporting the vehicle from slipping off. Do not compromise quality by going for cheap-jack and jack stands. Poor quality jack can fail and cause damage to the vehicle and even cause injuries to you.
27. Wheel Balancer
A wheel balancer is equipment used in balancing vehicle wheels to run evenly at high speed. Every time you change an old wheel on a vehicle, you have to balance the wheels. The reason is to ensure that the vehicle weight is evenly shared with the wheels. Wheel balancing provides a smooth ride and free vibration.
28. Wheel Aligner
Wheel aligner is crucial equipment that is used in aligning vehicle wheels per the manufacturer's recommendation. There are some mechanical works that will temper the wheel alignment, such as camber replacement, canister replacement, tie rod replacement, to mention just but a few.
So, after doing such mechanical work, you need to check the vehicle alignment to ensure the wheels are properly aligned. Aside from mechanical works that may alter wheel alignment, most automakers recommend checking alignment at every 10k miles.
Always check your wheel alignment at the right time. There are a lot of benefits that you'll gain from doing wheel alignment on time. These benefits include minimum repair cost, increased fuel economy, smooth driving, safety, and extended tire lifespan.
29. Hydraulic Lift
A hydraulic lift is a machine that moves or lifts objects using a hydraulic force created by hydraulic fluid in the piston. There are two types of lifts; two posts and four-post hydraulic lifts. Both lifts will raise vehicles higher, but the latter takes more room and makes it easier to load the car.
30. Oil Gun
An oil gun is a piece of common equipment used in sending oil to some parts of a vehicle where you won't ordinarily pour in the oil; like the front and rear axle.
There are various forms of oil guns in the market, including air-powered guns, electric guns, and handheld or manual guns. Handheld guns are manually operated, making them a bit hard to use compared to electric and air-powered oil guns.
31. Strut Compressor
This is a useful piece of equipment for compressing struts. It makes strut replacement easier and profitable. However, strut compressors are dangerous to use – if you are not familiar with them, seek professional advice. It can blind you or leave you with a big injury if not handled with care.
32. Bench Vise
A bench vise, commonly known as a workbench vise, is a vise attached to a steel or iron table used to hold objects from moving during operations such as sawing, planing, and drilling. It has two jaw ends; one is fixed, and the other is moveable using a screw, lever, or cam.
33. Engine Analyzer
An engine analyzer is a complex and multifunction instrument used to diagnose engine-related problems. It is compatible with both gasoline and diesel vehicles.
Some of its functions include the following components and test capabilities; timing pump, vacuum pump, ammeter, voltmeter, vacuum pressure gauge, an ohmmeter, a cylinder output test, and exhaust/emission analyzer.
34. Injector Cleaner
Some of the common problems mechanics face daily are fuel injection system issues – fuel injectors precisely.
These issues are mostly caused by dirt and grits that made their way to the fuel injectors and need to be cleaned with fuel injector cleaners. Injector cleaners work very well in cleaning dirty injectors at an early stage.
Using fuel injectors regularly can prevent your injectors from clogging. Adding it to the fuel tank at every fuel refill leads to shorter cranking time, better throttle response, smoother feel, and overall optimal engine performance.
35. Portable Welding Machine
As an advanced auto mechanic, you'll deal with metals and may need to do some construction- a portable welding machine will save you money and make your work easier. As the name indicates, it is portable and perhaps lightweight, and easy to move around. It is easy to operate and offers peak performance.
36. ATF Changer Machine
Oil change in an automatic transmission is complex and poses more chances of mistakes than changing engine oil. So, to close this gap, the ATF changer machine was introduced.
The ATF changer machine and its addictive makes it easier for advanced mechanics to render complete ATF transmission changes, including flushing, cleaning, and filling in new oil.
37. Paint Spraying Machine
A paint spraying machine is used in painting vehicles to give them a new look when the old paint starts wearing out or after a panel beating or accident work. The best paint spraying machine will make your work as a spray painter quick, comfortable, and efficient.
There are several types of spraying machines in the market. The common ones include a compressed air paint sprayer, airless paint sprayer, LVLP paint sprayer, HVLP paint sprayer, and powerful coating guns.
All these listed spraying machines have their pros and cons, but most advanced spray painters use the HVLP or airless paint sprayer.
38. Polisher
A polisher is commonly known as a buffing machine. Polishers are generally used to polish soft metal like copper and brass and plastics like perspex.
There are two types of buffing machines in the market; cordless and corded buffing machines. Cordless is the most common and popular polisher. It is used in buffing cars in auto repair shops.
Must-Have Personal Protective Equipment for Auto Mechanics
Safety is an important aspect to consider when working as an auto mechanic. Regardless of whether you're working in a classic auto repair shop or you're working on your own, always put safety first.
Personal protective equipment (PPE) will protect you from or minimize any form of injury in the auto repair shops. Ensure you wear your PPE when working in an auto repair shop. We've listed the important personal protective equipment you need as an auto mechanic.
39. Gloves
Gloves keep mechanics from messing their hands when dealing with grease, oil, or other messy tasks. There are two types of gloves you should buy as an auto mechanic. These are disposable and non-disposable gloves.
Disposable gloves are mainly used in dealing with messy jobs. Consider buying non-disposable gloves made of leather, canvas, or cloth. Ensure you buy quality gloves that can resist chemicals.
40. Face Shield
During some mechanical operations, a lot of fumes and abrasive clouds are released into the air. These fumes are dangerous to human health. It is important to protect your face during such operations. If you choose to buy a face shield with removable filters, consider buying extra filters.
41. Safety shoes
The best safety shoe to wear is a work boot. As the name indicates, safety boots offer maximum protection to your legs from cuts, scraps, and burns.
Always buy steel-toed safety boots. Regardless of the type of safety shoes, you want to buy, ensure it provides toe protection, comfort, and flexibility.
42. Hand cleaners
Before doing any mechanical work, it is important to note that dirt and grits are inevitable. An entry-level job such as an oil change may leave your hand with a bad smell and dirt.
You may think of protecting your hands with gloves, but remember they can rip off. A hand cleaner serves as a detergent to wash your hands after auto repair jobs. It will also leave a nice smell on your hand.
43. Safety Dress
Coveralls are known as safety dresses for many engineers and contractors, and it is no exception for auto mechanics. They are made of durable, protective, and fire-resistant materials.
An ideal coverall for auto mechanics should be made of ripstop fabrics, no-scratch-covered buttons, and padded knees to provide maximum protection.
44. Safety Glasses
Auto mechanics are exposed to dirt and grits under vehicles, chemicals, and small auto particles that threaten the eye. Safety glasses prevent a mechanic from those threats. Ensure you wear safety glasses when working with chemicals or any other task that poses a threat to the eye.
Final thoughts
Regardless of the services you want to offer as an auto mechanic, auto repair shops require several tools and equipment.
The outlined auto mechanic tools and equipment list above contains must-have mechanic tools that both individual auto mechanics and auto garages should have to fix any auto problems.
In any case, some of these tools are advanced tools and are used by professional mechanics. Nonetheless, every mechanic, DIYer, or Car enthusiast should know about these tools and how to use them.